First, please make sure that your chart runs an instance of the QUANTUM TREND MONITOR indicator. Next, right-click your chart and select "Add Alert…" and a new window will popup. Please follow the settings in the screenshot below to define an alert that triggers when a signal is confirmed but you can customize the Message which will appear each time the alert is triggered. Click Create (or Save)to save your settings. You can find all your Alerts in the right hand side of your TradingView workspace when you click the Alerts button (alarm clock icon) at the menu.
The Trend Monitor indicator sends three kinds of signals: Strong Uptrend, Strong Downtrend, Diminishing Uptrend and Diminishing Downtrend.
Please make sure to follow all the settings below but feel free to customize the text in the Message field which will be displayed every time the alert is triggered.
Alert settings for Strong Uptrend
Condition:

Quantum Trend Monitor
Strong Uptrend

Options: Once Per Bar Close
Expiration time: Open-ended
Alert Actions: Show Popup (you can choose other ways TradingView can notify you)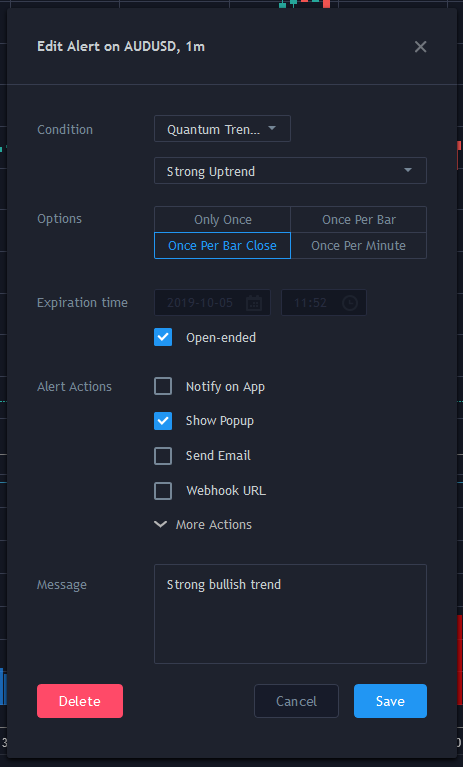 Alert settings for Strong Downtrend
Condition:

Quantum Trend Monitor
Strong Downtrend

Options: Once Per Bar Close
Expiration time: Open-ended
Alert Actions: Show Popup (you can choose other ways TradingView can notify you)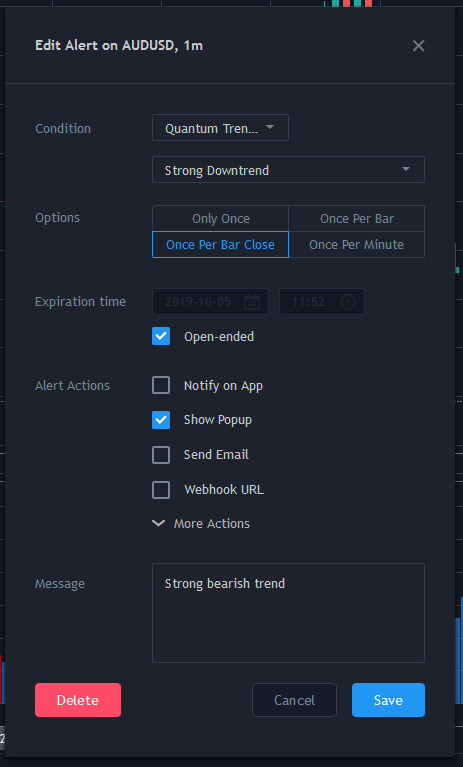 Alert settings for Diminishing Uptrend
Condition:

Quantum Trend Monitor
Diminishing Uptrend

Options: Once Per Bar Close
Expiration time: Open-ended
Alert Actions: Show Popup (you can choose other ways TradingView can notify you)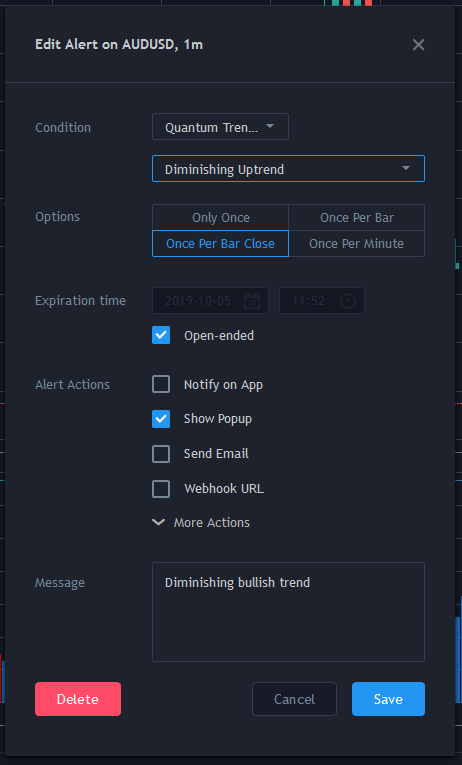 Alert settings for Diminishing Downtrend
Condition:

Quantum Trend Monitor
Diminishing Downtrend

Options: Once Per Bar Close
Expiration time: Open-ended
Alert Actions: Show Popup (you can choose other ways TradingView can notify you)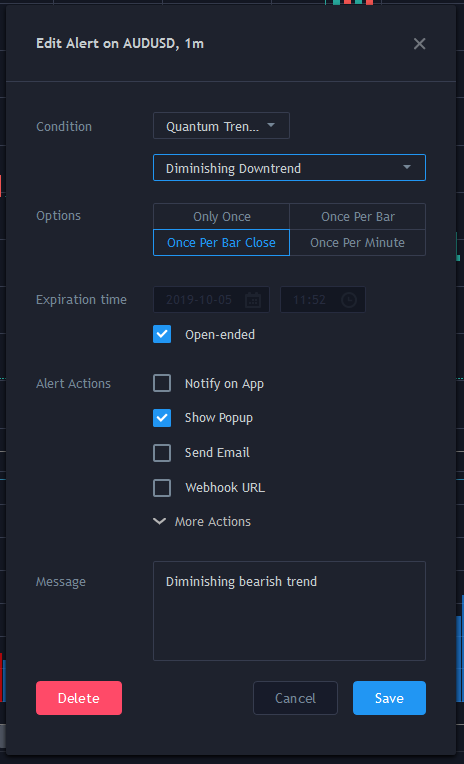 These are the basic settings to get you up to speed in setting up your very own alerts with the Trend Monitor indicator. Please refer to the page below for more in-depth information about creating and managing your own alerts on TradingView:
https://www.tradingview.com/wiki/Creating_and_Managing_Alerts